Today is April 15th!!!!!!!! I have NEVER in my life been excited to see tax day, but I am this year :o) My sweet hubby has been doing taxes this year and we haven't seen him much since February :o( Those days are D.O.N.E! Yea!! He is off tomorrow through next Monday and the girls & I couldn't be happier!
We decided to celebrate by going out to dinner. Daddy and his girls...so sweet!
These two may not share DNA, but they are so much alike!
My sweetie :o)
Afterwards, we dropped baby Jonah off at a fellow
CALL
family's home. He will be staying with them for several days while our family goes on a mini vacation. I hated leaving him and I already miss that sweet little face! A funny thing happened when I dropped him off...the mom recognized our family from this blog...haha! How funny is that? The Internet makes this world so small :o) So, a big hello to Carrie!! Thank you for taking care of our precious baby! I hope sweet little Jonah is being good :o)
I made Sophie Le a new apron/knot dress this week and I think it looks so cute on her. She loves that it twirls :o)
I especially love the red shoes with ruffle socks she wore today...I am on a big ruffle sock kick these days :o) I can't get enough of them!
I also love the sweet little dress Julianne wore today...
Here is one of my all time favorite pictures of Sophie Le...wearing the same dress in May 2008...how sweet is that baby? Be still my heart!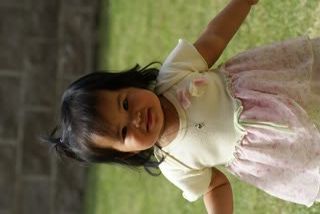 Would you like to see what $931.78 looks like? Here is it...
That is 24 (minus one we used tonight) doses of brand name cream we bought for Julianne's bumps. Is it just me or is that just ridiculous? Seriously, who in the world could ever afford to pay that much for a couple packets of cream? Ugg! Our insurance brought the price down to $237 and my SUPER COOL, AWESOME dermatologist friend gave me a rebate card that brought the price down another $100 to a final cost of $137....which I feel is still pretty steep..but better than $931 for sure and better than $178 for the generic rx I blogged about a few days ago.
Here is our before shot...
This cream better work wonders!